Case Study
Enterprise Application For IT&ITeS
Client
The customer is a global information technology services organization with revenue over USD 270 million. The customer has operations and a client base spanning across 18 countries including software development centers in India and Poland.
Executive Summary
The customer with business that has mature off-shore processes wanted to ensure the work-flow and performance management are in pace with growing demands and changing trends. To ensure this level of efficacy, a workflow management tool and performance assessment tool is required.
Synergy Technology Services, being a frontrunner in developing and integrating tools that are critical to businesses was entrusted with the job of developing one for the customer.
Technology
Struts2
Dependency injection with Spring
Hibernate
MySQL
Solution
The customer needed an Enterprise Performance Improvement and Management tool that would keep log of their resources' performance and enable optimized workflow management.
Developed an application for monitoring and managing resource performance, and coordinating work-flow.
Developed a tool that would digitize different formats of documents and create user-defined fields for profiling.
The format splitting tool to maintain and monitor a defined set of processes.
Indexing the digitized document for checking the veracity of contents.
Search module that would retrieve archived documents based on keywords or fields.
Case Study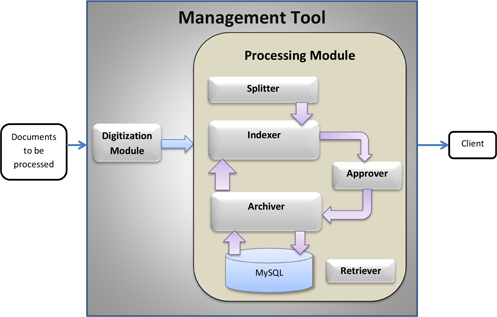 Challenges
Creating rule definitions for different file formats.
Image conversion from multiple file formats.
Features to transfer data via different protocols vis-à-vis FTP/SFTP, Email, UI uploading or bulk uploading etc.,
Business Impacts
Collaborative delivery across business lines.
Seamless workflow and resource management.
Cost containment and faster access to documents.